Having trouble signing up your new Ramsey account or activating your new product? No worries. we've got you!
Below, we have outlined some of the common causes for sign in troubles, go ahead and take a look through them and see if any of them look similar to the problem that you are seeing!
Common cause #1: You may already have an account with us.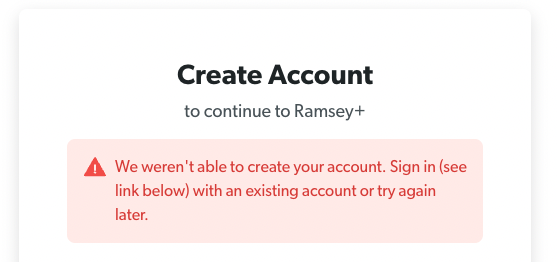 If you attempt to sign up for a Ramsey+ Free Trial or to activate a voucher code for a product that you have purchased from us, and you are using an email address that has already been established on one of our other Ramsey Solutions sites, then you'll get a message that looks like the image above.
All you need to do if you get this error is look right below the "Create Account" box and you will see an option to sign in instead of creating an account.

You will want to select this option and then sign in using that same email address and the password for that account.
If you forgot your password or are getting an error saying you are entering the wrong password associated with this account, you can simply follow our Forgot Password path to recover it by entering the email address associated with your account, and we will email you a password reset link.
We use strong passwords to make sure your account is secure. Follow the instructions on the page for current password requirements.
Common cause #2: Computer Browser issues
It is not uncommon that we see small issues with the computer browser make signing up difficult. If you are experiencing any issues signing up, you will need to try the following easy steps:
That your browser is up to date with its latest version.
That you have tried this in an incognito or private browser window,
And that you are using an updated browser like Google Chrome

Make sure that you avoid using browsers like Safari, Microsoft Edge, or Internet Explorer.
Typically, that will clear up any small errors that could be occurring.